Makanda & Southern Illinois Activities & Attractions
There is an endless supply of things to do in this magnificent playground called Southern Illinois. Take a hike, go biking, zip-lining, or boating. We invite you to come and stay with us to explore the area for yourselves.
The area is made up of rolling hills and massive rock bluffs that are called the Shawnee Hills. To the West is the Mississippi River, to the East the Ohio, they come together at the Southernmost point of the State. Fed by the Missouri and Wabash, respectively making up a group of the most voluminous rivers in the United States. Rich in history, geology, and natural splendor Southern Illinois is the home of the Shawnee National Forest.
Check out the interactive map or the list below of just some of areas of interest to explore around the Shawnee Hills.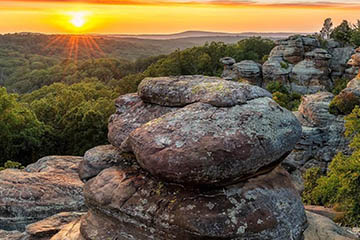 Shawnee National Forest
Most commonly known for the Garden of the Gods, Shawnee National Forest contains about 280,000 acres. Places like Lusk Creek, Bell Smith Springs, and Burden Falls, to name a few, provide a seemingly endless supply of outdoor recreation. Go to the Forest website to explore the many options available in this great piece of land preserved for our enjoyment. If you like to hike the choices are many.
Known for its breathtaking beauty, Shawnee National Forest is a popular place to visit because there's so much to do. And because the climate is so agreeable, you can do them pretty much throughout the year.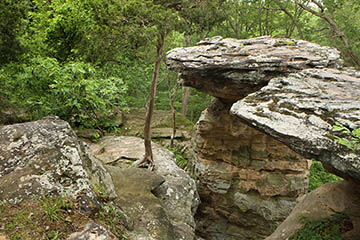 Giant City State Park
This beautiful park is right across the street from Makanda Inn. You can literally walk out of your room and onto one of the best trails in Southern Illinois. The park was named Giant City because walking among the rock formations in the park resemble City streets between Giant rock walls that remind one of the city buildings. The hiking here is excellent with many options from a half-mile to a 12-mile hike around the park.
You can also hire horses from the Giant City Stables and explore the park on horseback. Rock bluffs abound, and there is Fern Rock Nature Preserve that is only accessible by the Trillium Trail. Trail-only exploration helps to protect this fragile eco-system and is home to a myriad of wildflowers.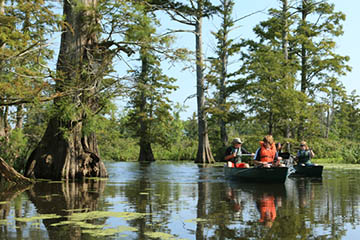 Cache River State Natural Area
Made up of 14,960 acres it is home to many natural attractions most notably, the northernmost cypress swamp with trees over 1,000 years old. Paddle through the Duckweed to see these magnificent trees on your way to Eagle Pond.
This sizeable natural area was created during the glacial melt-off after the ice age and remains one of the many natural wonders.
At this site, you can enjoy many recreational activities such as biking, hiking, seasonal hunting, and fishing. Try out Cache Bayou Outfitters in Ulin, for rentals in this area, call ahead for reservations.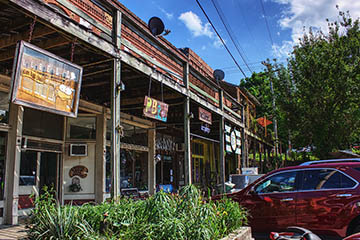 The Makanda Boardwalk
The Makanda Inn is located a half mile south of what is known as the Makanda Boardwalk. Makanda, formerly a thriving produce junction that dwindled over the years after a series of floods. The town was resettled by a group of hippies back in the late '60s, and early 70's who found the beauty of the place and never wanted to leave. Since then it has grown into a unique cluster of shops that thrives today. It is a great shopping destination that is a must see while in the area.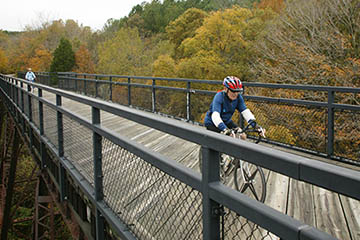 Cycling
Area roads are a cyclist's paradise. Light traffic is the norm here. Options for short and long rides limited only by your willingness to explore new routes.
Tunnel Hill Trail, a crushed rock old railroad bed that provides an excellent surface for road bikes in the summer. Many of our guests have toured this trail, and all enjoyed it.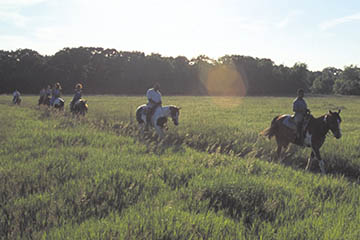 Horseback Riding
Exploring the local area on horseback is a great way to see a natural beauty that surrounds us. Giant City's horse trail runs through the park and runs along the bluff that is just up the hill from the Inn. A couple of stables to choose from, Giant City Stables just a few miles down the road and Black Diamond Ranch in Cobden.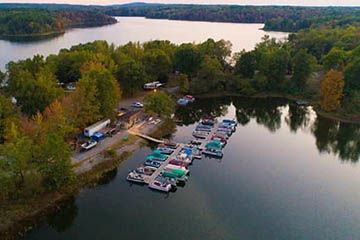 Fishing, Swimming and Boating
We are close to several lakes with Cedar Lake and Little Grassy Lake only a stone's throw away. Little Grassy Lake Campground and Marina is a 15-minute drive where you can rent Paddle Boards, Kayaks, Canoes, Jon Boats, & Pontoon Boats. Drive a little further, and you can enjoy Devils Kitchen Lake, Crab Orchard, and Lake of Egypt. For a day in the Cache River State, Natural Area you can rent a canoe or kayak or take a guided tour and see Southern Illinois's Cypress Swamp. Hike the boardwalks to see the swamp on foot.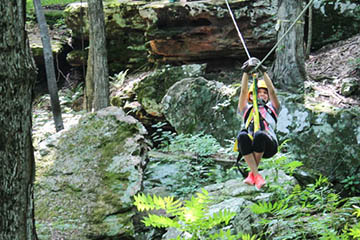 Zip Lining
See the Shawnee Forest from above, zip lining at its best! Many of our guests have gone zip-lining and rave about how great it is. The tour combines eight zip lines, 11 platforms, three suspensions bridges and two short hikes on the ground. One zip line is 1100 feet. Wow! Surely an adventure filled, fun day!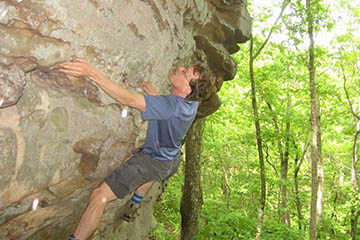 Rock Climbing
Southern Illinois and the Shawnee Forest is known for its rock bluffs that are all over the area. The link above will get you started.
There are plenty of designated climbing areas in Giant City State Park, our neighbor. One of those areas is called Devils Stand table, and it's just a short hike from the trail parking area.
Hiking
There are so many places to explore in Southern Illinois, take a day, pick a spot, and we are sure it will be a great day and a great stay. Following are some of the natural areas great for a day hike.
Quetil Trail
This trail is multi-faceted in that the official trailhead is in town at Alto Pass. You can also access it from one of the two overlooks on Skyline Drive. A hike down a set of stone steps takes you down from the overlook to the trail. Rock climbing is available here with bolts installed on various routes.
It is quite picturesque in the spring. Of course like everything here it is excellent all year round. The view from the overlooks is fantastic, and you can see Bald Knob Cross not too far in the distance.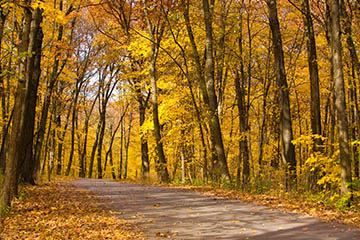 Kinkaid Lake Spillway
Kinkaid Lake Spillway is a beautiful and peaceful place to visit. If you are a waterfall enthusiast or looking for a place to cool off in the summer, you will want to check it out.
Just a 40-minute drive from the Inn the lake also offers boating, fishing and picnicking. There are four boat ramps to choose from and a full-service marina.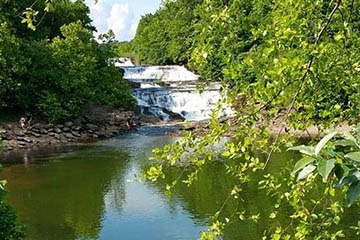 Ferne Clyffe State Park
Ferne Clyffe has gotten rave reviews from our guests who have gone there. One couple, in particular, went for the rock climbing and loved it. If we have had some rain, you will see a 100-foot waterfall. Ferne Clyffe is a diverse natural area that provides hiking, rock climbing, hunting, and Fishing.
The lake is 16 acres and is accessible for bank fishing. While boating and swimming are prohibited, you can take in the scenery of the lake while hiking the Blackjack Oak Trail.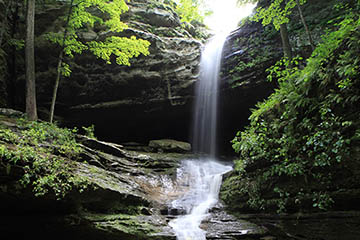 Cave in Rock State Park
At the sound of a cave mystery and ancient times come to mind. You have the chance to experience all this by visiting the Cave in Rock State Park. It is a historic site that was used by Native Americans a thousand years ago.
On the Ohio River, the Park offers opportunities for fishing, boating, and water sports. Cave in Rock is a destination for great views and hiking with the atmosphere that comes with being on a riverfront. Rich in history this stop is worth the drive.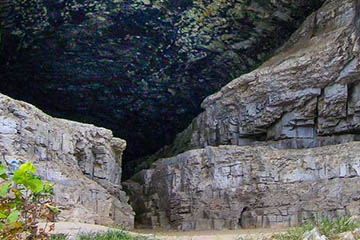 Additional Ways to Relax & Enjoy